About Bob Silver
My Story
On February 1st, 2004 I retired as the Head Golf Professional of the Old Ranch Country Club. My tenure as the Head Professional/Manager of golf operations lasted almost 20 years. It was a wonderful and rewarding experience that ended with a real feeling of satisfaction over the accomplishments that I was able to achieve. So, after some deep reflecting, I decided to leave the Head Pro/Manager ranks and focus on teaching.

I've been very privileged to be in the golf business for some 44 years, actually around 45 if I want to count 18 months as a driving range ball picker. I'm now in my 33rd year (ouch!) as a member of the PGA and 37th year (double-ouch!) as a golf Teacher/Coach.
The Baseball Influence
My environment as a youngster did not include the game of golf. My game was Baseball, from pee-wee league through high school and an offer to try out for college baseball, of which I decided against. My backyard for many years was a self built half-acre baseball field, a half baseball diamond with a full left field and half center field. The neighborhood used it as the "ball park". (One of the kids, Steve Staggs, played in the major league with Oakland and Toronto)
Years later, my family moved to a new home, one that was directly across the street from a new 80 acre park, still in the same neighborhood. With two baseball diamonds, the park became many kid's neighborhood playground. (Dave Snow, the very successful, now retired Long Beach State head baseball coach, was part of the neighborhood baseball group) So, with a park across the street I played a lot of different sports, but not golf. It just wasn't around in my world... yet.
My high school didn't have a golf team. I did not play my first 18 hole round until the summer after I graduated from high school. Working as a range boy at the Bellflower Par 3 golf course/ driving range since early in my senior year, I developed an adjusted baseball swing for golf. I somehow shot a 91 the first time on a championship course while playing with my father and his friends at Greenriver golf course. After that, I played and practiced any time I could.
Since my college major(s) were all business related, I quickly moved from the driving range to the golf shop cash register. I drew night hours during the week and daytime hours on the weekends, all of which allowed me to do golf, school and work. The three were blended together to create a passion around a sport, lifestyle and occupation of which I'm very fortunate to have experienced.
About four years passed before I started entering tournaments. My first winnings were in the Los Angeles City Championship, placed in the amateur winnings twice in consequence years. I remember the adrenaline flowing on the first tee at Rancho Park when I stepped on the tee before a large crowd of people. To hit a good drive and hear the applause of the gallery was like hitting a homerun or stealing home plate to win the game. What a feeling, what a rush, now I understood some of the reasons why my father and uncle enjoyed golf.
Frank Cormaci - PGA
The "high" of golf competition created a desire to improve as a player, so I decided to seek help from a teaching pro. A friend recommended Frank Cormaci, the Head Professional and teaching pro at the Los Alamitos Country Club (the public course owned by the Vessels family). He gave me some solid basics in regard to swing thoughts and how you should adjust if needed.
About a year or so after Frank's lessons, I was in a sudden death playoff with 10 players for the last California State Amateur qualifying spot. Played at the Los Serranos golf course, the qualifiers advanced to the Monterey Peninsula for the State Amateur tournament. Unfortunately, I was on the losing end between the last two players left for the one qualifying position. I remember watching the other guy's putt roll in the hole to beat me, looking like it was in slow motion as it dropped in. He qualified, I became a 1st alternate. Disappointed, I still made the trip to Monterey with my new wife, Cindy. I was in hopes that at least one player would have to cancel at the last minute. But no such luck. All players showed up that day.
Although it was disappointing not to get into the qualifying for Match Play, I was able to play some practice rounds as a contestant for almost nothing. (how about $15. for Pebble Beach!). I was also able to experience the magic of the Monterey/Carmel area. I have since returned every year thereafter, often on short vacations.
Shortly after the State Amateur, I partnered with a friend to win the Southern California Public Links Partner's Better Ball Championship (Gross flight) at Singing Hills golf course.
In 1976 Frank Cormaci offered me a position in the golf shop at the Los Alamitos golf course as his assistant pro. He would oversee me as a teacher while I began the apprenticeship process to be a Member of the PGA. I passed the Playing Ability test (on the first try) and got through the Business Schools (not as easily) to become a Member of the PGA in 1980.
As Frank Cormaci's 1st Assistant, I was lucky to be in that position because Frank generally didn't like giving lessons after noontime. So, all his overflow of students went my way. I would learn a lot, often by the mistakes that I would make and then have to correct. There is just no substitute for experience. A lesson learned under Frank.
Old Ranch Country Club
| | |
| --- | --- |
| In 1981 I was offered the 1st assistant position at the Old Ranch Country Club, by the Head Professional and current President of the Southern California PGA, Bob Lovejoy. Under Bob's guidance and support, I learned the private country club operation. I was also permitted to continue to teach many of my Los Alamitos students at Old Ranch. | |
The private club atmosphere allowed me to practice and play more often. Since there were quite a few good players among the members at Old Ranch. I took every opportunity presented to me to learn and absorb their knowledge about playing and competing. I very much enjoyed my time as Bob Lovejoy's first assistant because he allowed me time to teach, play and learn the golf business. That, along with my improvement as a Teacher/Coach/Player, would later advance me to the Head Pro position in 1985 when he moved to the Big Canyon Country Club as their Head Professional.
Johnny Revolta PGA
| | |
| --- | --- |
| | About 1984 I started taking lessons from Johnny Revolta out of Mission Hills Country Club in the desert. I was getting beat often by a fellow golf professional who liked to do a little too much gloating and trash talking after taking my money. I wanted to improve even more now. I needed to get better. That trash talking turned out to be a blessing in disguise because it made me seek another good teacher in Mr. Revolta, both in regards to my swing/game but also in regards to experiencing another teaching method. |
Johnny Revolta was in his super senior years when I started seeing him for about a three-four year period. He was a great player in his day, he beat Walter Hagen and Tommy Armour in match play to win the 1935 PGA, played on the Ryder Cup team and was player of the year.
Johnny would leave every June and spend the summer at the Boca Raton resort in Florida, and return to Palm Springs for the winter. He was always accommodating to me, referred to me as "oh, that little pro from Long Beach". Since he didn't like or want to teach on Mondays, he always made himself available for me at the crack of dawn on Tuesday mornings. I remember leaving around 4:00am, get to Mission Hills about 6:30, get out of my car and there would be Mr. Revolta, with a big yellow bucket of balls waiting. He often taught sitting in an electric cart, getting out to make a point or two. The whole huge bucket of balls was hit each time I saw him, he liked action, had his own sayings to describe what to do and made sure you did it whether you understood it or not.
He had the strongest, biggest, most calloused hands I have ever shook hands with. Johnny helped me a lot as a player, adding many teaching tools to my arsenal. I was very saddened to hear of his passing away years later.
While collecting my winnings one day from that certain trash talking fellow golf pro, whom had made some comments regarding my better play, I was asked "what gives?" I remember saying "Just working on my game I guess?" As I walked sheeplessly away, stuffing his money in my pocket while I thanked Mr. Revolta quietly under my breath.
Head Golf Professional at Old Ranch
| | |
| --- | --- |
| The mid and late 1980's was a booming time for golf, because the tax laws were free and generous regarding write-offs while entertaining clients. That made things extra busy at Old Ranch, and real busy for me, (now the Head Pro) and my three assistants, seven days a week, 363 days a year. I found it a real challenge to manage, teach, play and maintain a happy existence away from the club. I did it, but not sure how. | |
Working with Johnny Revolta definity helped my teaching and playing during this period. I was able to win a couple pro-am tournaments, with my Old Ranch members as teammates. Placed fairly high in a couple PGA Pro-Assistant tournaments (5th being best) and went out one day with a couple of my students at Lakewood Golf Course and shot a 66 from the back tees on a windy day (my lowest recorded round to date). Showing off I guess?
The 1990's brought an opportunity to increase the golf shop's staff size. I was then able to delegate some of the more time consuming duties. That permitted me to teach more and play in tournament competitions.
One of the more popular tournaments for golf pros and their members is the Oldsmobile Scramble. The members would qualify a team locally and then have a pro join them in the Sectional tournament, the winner advancing to Disney World in Florida for the National Finals. I had taken a team to the Sectionals every year since 1982, with not a lot of success. That ended in 1990 when my team won the Sectional tournament to advance to the Finals. The National Finals was a huge tournament, played days before the PGA Tour stop, the Disney Classic.
In 1991, my team (with different members) won the Sectional again to advance to Disney World and the National Finals. That team, finished 37th among some 200 plus teams nationwide. In 1994 I captained another team that won the Sectional Championship to advance to the National Finals. In 1998, never expecting to win the qualifying tournament for a fourth time, I was pleasantly surprised when we tied for first and won the playoff to advance to the National Finals, played in Las Vegas that year.
In 1993 I almost did what I'm still working towards, to win an individual Stroke Play, recognized PGA or USGA tournament. The event was called the UST Golf Show Classic played at Mesa Verde Country Club. There was a lot of money added to the purse because it was connected to the West Coast PGA Merchandise Show. With the hefty purse, the field of local PGA pros was pretty strong. I had a good day and shot a 71, two strokes behind the winner, Brad Sherfy (69). With a double bogey early on the back nine, I could only look back and wonder if only I had made a par on that hole and made my birdie putt on 18?
"Should-ah", "Could-ah", "Would-ah", just doesn't do it. Either way, I had a good payday and experienced the thrill of finishing ahead of a lot of very good players.
Bob Charles Day
One of the more enjoyable benefits I enjoyed as the Head Professional was the group golf trips that I either ran or arranged. They allowed me to experience many parts of the world and get to know my members and their friends a little better. I planned, organized and administered two of my more successful trips to Pinehurst and The Broadmoor in the States. I used travel agents on trips to Canada, Scotland, Ireland and one big trip to Australia, New Zealand and Fuji. To promote that trip, I played a 9-hole exhibition match with the legendary New Zealand Tour player, lefty Bob Charles.
Quite an experience playing against a Tour player whom had played all over the world for years, won the British Open (1963), played with and against Ben Hogan (3 US Opens). I couldn't stop asking questions, and he didn't stop answering them. It was a very enjoyable day. I learned a lot that day. Oh yeah, he beat me.
Mark Blakley - PGA
I had a down period due to breaking my foot one summer. So, while in a cast I visited fellow pro, Mark Blakely (Candlewood Country Club) every other week. I came to Mark for help with my putting (figured I didn't need two good feet for that) and knew that he was not only a good player but also very experienced in the short game fundamentals. He had grown up around golf, his father was Jim Blakely, a well respected teacher.
Those afternoons on the putting green with Mark was a real learning experience, it helped me putt better as well as improve my teaching eye. His approach towards drills and routines is what has stayed with me the longest.
After my foot healed, I had a stretch of successes in tournaments due to my putting improvements. His suggestions were very helpful and usually worked.
PGA National Workshops
| | |
| --- | --- |
| While I enjoyed the merchandising end of being a club pro, (business marketing major in college, voted Southern California PGA Merchandiser of the Year in 1995) I always preferred getting my required PGA recertification hours learning more about the golf swing than how a golf shirt was constructed. In 1992 I attended a week long "Playing Workshop" in Carmel Valley. | |
That workshop exposed me to four experienced and respected instructors. Jim Logue from Brookside Country Club in Ohio, Gary Robinson from the Firestone Country Club in Ohio, John Traub from the Detroit Golf Club and Drew Pierson from North Carolina.
Every day consisted of classroom time in the mornings, applying and practicing mechanics in the afternoons, always ending with a 9-hole competition between everyone. It was the first time I was exposed to video, or rather how to use it properly. Each instructor had his own way about doing things, which was in itself a great learning process. Drew Pierson, whom I really enjoyed, would constantly be telling me Gary Player stories and comparisons because I was "his size" and thus should swing the same way….. according to Drew anyway.
The following year I attended a "Golf Psychology: Playing workshop" for a week, in Tucson at the Ventana Canyon Golf Club. Instructors included Dr. David Cook, Dr. Dick Coop and PGA Tour player, Bruce Summerhays. Dr. Coop was working with Payne Stewart, Corey Pavin and had been Arnold Palmer's "mental coach" for some time. His insights and explanations of what we do mentality was fascinating. Dr. Cook was the first person to drive the importance of a pre-shot swing routine into my overly active right-side thinking brain.
Each afternoon, we all played in a 9-hole tournament, using the mental tools that we had learned. Play formats varied from only using one 1 club and a putter, to feeling how many times a "mental routine" actually reduced stress. I was lucky enough to draw Bruce Summerhays as a playing partner a number of times, and was exposed to his "5-wood chip shot" of which he created and was later made popular by Tiger Woods. I learned a lot about myself that week.
Dr. Craig Farnsworth
In 1999 the owners of the Old Ranch Country Club closed the golf course and driving range down in order to completely re-construct the course and its facilities. I was directly involved with the project daily. It was during this period that I took a day and spent it with Dr.Craig Farnsworth on a really hot day in the desert. His expertise on what your eyes and mind do when putting was a real ….. "Eye-opener" for me. He exposed my weaknesses right away and, in turn, taught me more of what I didn't know.
Ben Doyle - PGA ,GSED
Around mid 1997, I started working with Ben Doyle out of Carmel Valley. I have returned every year since, sometimes twice a year. It's usually on a short vacation up north with my wife. She would say goodbye to me for the day, I would go see Ben for a lesson. My idea of a "Bus man's" holiday, I guess.

A real good teaching pro friend of mine sat next to Ben at one of the PGA's Teaching Summits. As we talked one day about Ben's reputation of being "not for everyone" and how he "knows his stuff inside and out", I became curious as to how he can "not be for everyone" yet "know his stuff inside and out"? So, I made an appointment for a lesson.
There is a book, which is really a golf stroke handbook, written by a scientist named Homer Kelly. The book is called The Golfing Machine. It is a somewhat controversial book, mostly misunderstood but controversial still the same. Ben Doyle met Mr. Kelly and became The First Authorized Instructor of G.O.L.F. (Geometrically Oriented Linear Force) Ben had spent some time with Ben Hogan, of which Mr. Kelly used as one of his models during his research. As Ben explained to me one day, "It (The Golfing Machine) was in his (Mr. Kelly's) incubator for eight years before the first edition was released".
I found Ben Doyle to be extremely interesting. Sure he knew The Golfing Machine inside and out, but he also had a remarkable teaching eye and understanding of what he wanted to communicate. His almost unbelievable knowledge had been learned by his teaching experiences, before and after his introduction to Mr. Kelly and his findings. He had found answers to questions about how the golf stroke works through this different kind of golf book.
I went to Ben to improve my game but soon realized that my time with him was improving my way of teaching and communicating what my eyes saw. If you get ten teaching pros together, and they all look at the same swing, pitch, chip or putt they will all see something a little different due to their individual experiences, feels and beliefs.
After visiting and learning from Ben Doyle for 12 years now, I have concluded that certain principles and laws must be followed, but there is no limit as to the ways you get there. There really is NO ONE WAY of making a golf stroke work.
During the re-construction period of the golf course and clubhouse at Old Ranch, I was left with a very small corner of what was the driving range. A fenced off corner where the chipping green and practice sand bunker remained. I had a hitting cage built so full swings could be practiced. I thought my lessons would soon all go away until I had a real driving range to teach out of. While some left, many continued to take lessons and most continued to improve. I was pleasantly surprised. What I had learned from Ben Doyle ("Don't need a ball to improve") helped me to tie a few things together in my mind about the golf stroke while improving my "teaching eyes". I learned how I was going to communicate my thoughts better to my students.
Conclusion
I feel a great deal of satisfaction over the fact that I have improved a little every year as a teacher and player, some years more than others. While I would have liked to experience golf earlier in my life, I certainly would not trade how and where I grew up for anything, not even golf.
Today, what really motivates my passion and love for the game is my strong desire to get better and enjoy doing it along the way. Not always an easy task, whether it be a game or life itself.
Acknowledgments
Playing and teaching influences:

Mark Blakley
Bob Boughner
Dr. David Cook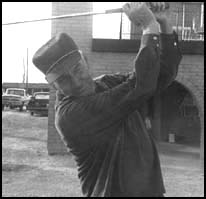 Dr. Dick Coop
Frank Cormaci
Craig Chapman
Ben Doyle
Chuck Evans
Sue Ewart
Dr. Craig Farnsworth
Randy Hartzell
Preston Kyle -- (pictured right)
Jim Logue
Dale Morrison
Alan Ochiai
Drew Pierson
Jim Ream Jr.
Johnny Revolta
Frank Rodriquez
Bruce Summerhays
John Traub
Gary Robinson
Gary Wishon