Rhythm is swinging at a steady, even rate.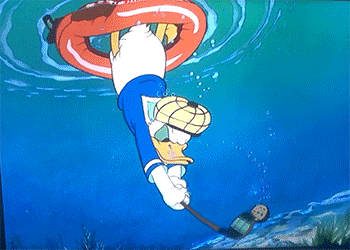 Tempo is the speed(s) at which one can swing a golf club while in Rhythm.


---


Here's a good drill to acquire a skill/habit with Rhythm and Tempo.


DRILL: UNDER WATER GROUND STRIKE



REQUIREMENT: some imagination !



SHOT TO PRACTICE: short pitching

Use "whatever" technique you would use to hit a 10 to 20 yard pitch shot, using a "gap" wedge (50 to 55 degrees).


(1)_ PRETEND/VISUALIZE YOU ARE swinging UNDER WATER
(imagination is required)


(2)_Hit first a 7 to 10 yard shot and note where the ball strikes the ground..

(3)_Next, hit the second one a little further than the first, hitting the ground just past first ball's ground strike.

(4)_Next, hit the third one a little further than the second, hitting ground just past last strike..

With this "Hopscotch" drill , doesn't matter so much where the ball comes to rest as much as where did the ball strike the ground.



Got to start drill over if you can't control the ball's ground strike area in the proper sequences. Good way to determine if a swing technique upgrade might be in order. The ball will tell you.


Do within a maximum distance of 30 yards, minimum ground strike area of 7 to 10 yards.



If you can do 3 times in row, then reverse the sequences, you're getting good....
.... Congratulations





You should start to notice how the size of back swing will dictate how much energy is put on the ball, NOT by flipping, scooping or pounding down at ball.

More of letting ball get in way of swing, with an equal size back swing and finish every time.



Swinging while feeling under water, sticking the finish with each successful swing will be habit forming. Got to be under water remember.

Lastly, now try with different wedges / lofts. (like 58 to 60+ degrees) Ball should go higher, require bigger size swings with same distance control-ground strikes.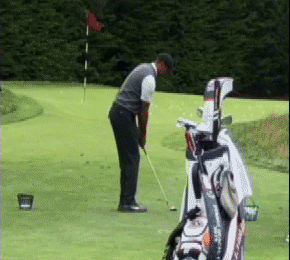 Start with ball position at address towards back foot for this drill.



Different ball positions can control trajectory, this drill is more for distance- balance- rhythm control than how high or low you may be trying to hit a shot.



Weight should favor front leg (closest to target) throughout stroke. A standard principle for pitch shots.


Be sure to finish all swings to a holding-resting-position.

"Post-up" or "Pose" if you will.

Don't come out of that finish position until the ball strikes the ground.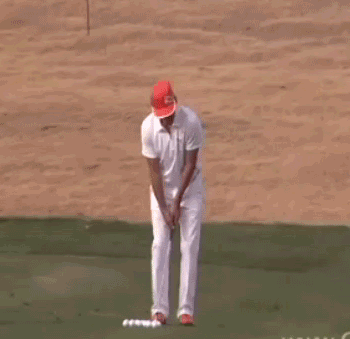 Yes, this drill could work with any swings in principle.

Works more for short game swings (putt-chip-pitch) than full swings that require more speed in your tempo..

After somewhat developing the skill/habits of this drill, one can surely speed things up when needed.
Be careful, "feel" like you are somewhat still "under water" to finish.
You know, like Donald do.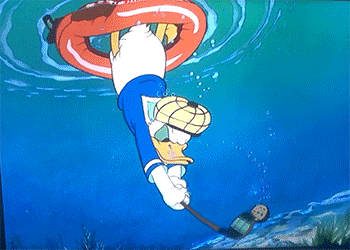 ---
note: definition of Pitch Shot is when ball is in air longer than on the ground as opposed to chip or putt when ball in on ground longer than in the air.
(practice before trying on golf course, which should always be the case.)

---