About watching Repeater Swings
Don't look for a "position", look at in a general Sybervision ** way. Look for similarities and/or differences of areas that may be of interest to you like:
swing shapes, set-up/address looks, impact areas, swing motions, swing finishes ,etc.

As an example, if your Pro/PGA instructor talks about how your arms should swing, look at how a certain player does it and how another may do it. Keep in mind, the Tour Pros have wonderful hand-eye-coordination and thus they are expert Manipulators of Impact.
Your general visualization is more important than some magic position.


Different camera angles can make certain positions "appear" a certain way, but are not what you might think you see because of the different angles the video could have been shot at.

Video is a great learning tool, but only within the context of learning a "feel" that is individual, which is to say …yours.


Also we usually don't know what kind of shot the players were trying to hit, which can affect its "look". If the shot the player was trying to produce had a left- to- right shape, or right- to- left shape, that factor could easily affect the player's different set-ups, hand/arm swing shapes.

Some swings are taken on a driving range while others are on a golf course during play. Advanced players have learned to always try to hit shots to targets, with some sort of shape to the ball's flight. That requires "feel" adjustments, which could easily change a look of a swing at that time.


The Loading Period:
The swings "Loading" may take a few seconds to load.


Give the page a full load time. Some swings may appear earlier than others, let them load completely. You will find the next time you view this page, whether going back and forth today or the next day, month, etc. the swings will appear and load MUCH quicker.




** SyberVision or CyberVision has been referred to as Muscle Memory Programming, or as often referred to as"Repititous Sensory Stimulation". Some say SyberVision could be used as a "dramatic improvement in the quality and consistency of a player".

Basically, a theory based on viewing enough times, you may feel "your" swing's motions/positions better. You have to SEE before you can DO.
Johnny Miller
Johnny Miller
height- 6', 2"
weight-205 lbs
birthday 4/29/1947
birthplace-San Francisco



"No one becomes a champion without help."

-- Johnny Miller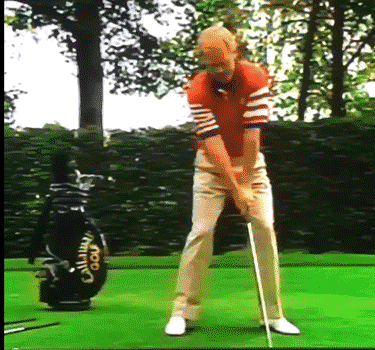 When asked to define choking:



"It's called golf.
Golf is the greatest game, in the world for handling pressure. It's a slow game, and there is a lot of time to think -- a lot of memories you don't want to pop up.

Golf is about how you handle the choke factor. If you don't think choking and handling it is important, you're missing the point of the game and you'll never amount to much.

It's a foe you must overcome. It's a foe that's is wonderful to overcome. Whether it's because the wonderful to overcome.
Whether it's because the hole doesn't suit your game, the pressure, the player you're up against-- they're all things that if you overcome and win, man, that gives you joy.

Choking sounds like a bad word, an ugly word, but choking is golf."


--Johnny Miller
When asked what was your greatest weapon?



"My iron game.
Nobody was even close to me from five iron to the wedge. I could dial it in straight in within 1 yard. In other words, if the distance was 156 yards I was going to hit it 155, 156, or 157. It wasn't, well I hope it goes that far.

It was every time, within 1 yard. Sometimes I would hit it and put my fist up halfway, thank you very much. It irritated the pros, I had a different method. No matter what the distance was, I took it to a set position at the top and would dial in the clubhead speed I wanted.

A lot of guys shorten the swing or choke down. But I could dial in any speed I wanted, to hit it 151, -2, -3, -4, etc. That's a great way to teach it though I don't know of anyone who teaches it."

--Johnny Miller


wait-once loaded-- swings above never stop



"At Pebble Beach on the 16th hole of the 1971 Bing Crosby, I was playing against Jack Nicklaus.
I hit my drive down the right side. Then I pulled-shanked it on national TV. It was embarrassing and maybe cost me the tournament.

I won 25 times after that and never once on the last day did that situation NOT come into my head, "you're not gonna shank it like you did in 71". I had to fight those demons for the rest of my career."


--Johnny Miller


wait-once loaded--swings above never stop



"I feel I'm different. I don't do anything like a standard person. I got it from my dad, who is artsy. Saying things other people don't think of is the greatest gift he gave me. If a guy hits it 12 feet right of the pin, I don't need to say that because you just saw it.

So give the viewer something he doesn't know. Why did he hit it 12 feet right of the pin? Too many announcers state the obvious; I try to get into cause and effect and swing analysis.

My feeling is, when the players get to the parking lot, there are mine. There are fresh meat. I'm there for the viewer. I want to viewer to have a clear understanding of what happened. So, if a player does something wrong, I might say here's what he did wrong and here's how you can keep your elbow from flying."

In my own way, I'm giving the player and the viewer a lesson. The players don't like being the guinea pig. I'm trying to help them, but they don't view it that way. I see it like I am there on the practice tee saying you pull-hooked it because you hung back on your right side and kicked that right elbow out at impact. They think I'm trying to expose their faults ,but I am pulling for them. If they're doing something under pressure that they normally don't do, I'll expose that to help them next time. Nobody likes having their pants pulled down on national TV, and that's basically what I'm doing."

--Johnny Miller



wait-once loaded-- swings below never stop

wait-once loaded--swings above never stop





"The young guys have never seen 5-7 inch rough before."

--Johnny Miller



"You're not gonna make many putts when you miss on the low side."


--Johnny Miller <!—putting----------------->

wait-once loaded--swings above never stop



---


Notice that even though he let go with his back (right) hand, the putter ended up with his left side in the forward finish space. No pulling back, flipping at ball, shake'in and bake'in, just forward and holding.


-- B.Silver

---




"You have to be a great Putter or have a great putting week, and I never had a great putting week at Augusta. I hit it well enough tee-to-green to win four jackets, but those greens were too tough for me, and my putting always succumbed to major championship pressure. Basically my putting woes were exacerbated on the slick slopes of Augusta National."

--Johnny Miller


"Those are two sounds you don't want to hear on a golf course, a plonk and a splash."

--Johnny Miller



"Match play really exposes your character and how much of a will to win you have in your heart."

--Johnny Miller
"Peter Jacobson had a downhill lie with a 215 yard shot, water on the left, and he had to hit a high shot. I said: " This is a perfect shot to choke on." I didn't say he was gonna choke, but his friends told him that I did.

He won the tournament but didn't talk to me for six months until he found out what I said. It was the first time anyone said "choke" on TV, and that raised a lot of attention to my new career. I didn't do it on purpose. It's just the way I think."


--Johnny Miller






"The mental aspect of golf is what makes golf such a great sport."



--Johnny Miller



Miller later said of his peak period in the mid-1970s: "When I won at Tucson by nine shots in 1975, I would say the average iron shot I hit that week was no more than two feet off line. It was unbelievable. When I was at my peak, I would go into streaks where I felt that I could knock down the pin from anywhere with my irons. I played some golf that I think is unequaled."
Return to Featured Swings List
Phil Mickelson
Phil Mickelson
height- 6', 3"
weight-200 lbs
birthday 6/16/1970
birthplace-San Diego









wait-once loaded-- swings above never stop





"The object of golf is not just to win. It is to play like a gentleman, and win."

--Phil Mickelson



wait-once loaded-- swings above never stop




Needing a par on the 72nd hole in the 2006 U.S.OPEN for a one-shot victory,Phil chose to hit a driver off the tee on the final hole, and hit it well left of the fairway (he had only hit two of thirteen fairways previously in the round).
The ball bounced off a corporate hospitality tent and settled in an area of trampled-down grass that was enclosed with trees. He decided to go for the green with his second shot, rather than play it safe and pitch out into the fairway. His ball then hit a tree, and did not advance more than 50 yards. His next shot plugged into the left greenside bunker. He was unable to get up and down from there, resulting in a double bogey, and costing him a chance of winning the championship outright or getting into a playoff with Geoff Ogilvy.
After this final round in the 2006 U.S. OPEN, Phil said:

"I'm still in shock. I still can't believe I did that. This one hurts more than any tournament because I had it won. Congratulations to Geoff Ogilvy on some great play.I just can't believe I did that, I'm such an idiot."


wait-once loaded-- swings above never stop




"My dad gave me the best golf advice I ever received, which was to have fun. That's the reason why, when I practice, I'm always having fun and enjoying it."

--Phil Mickelson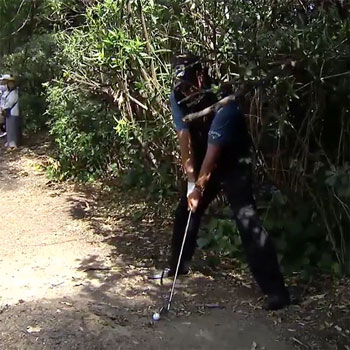 Return to Players Swings List