About watching Repeater swings
Don't look for a "position", look at in a general Sybervision ** way. Look for similarities and/or differences of areas that may be of interest to you like:
swing shapes, set-up/address looks, impact areas, swing motions, swing finishes ,etc.

As an example, if your Pro/PGA instructor talks about how your arms should swing, look at how a certain player does it and how another may do it. Keep in mind, the Tour Pros have wonderful hand-eye-coordination and thus they are expert Manipulators of Impact.
Your general visualization is more important than some magic position.


Different camera angles can make certain positions "appear" a certain way, but are not what you might think you see because of the different angles the video could have been shot at.

Video is a great learning tool, but only within the context of learning a "feel" that is individual, which is to say …yours.


Also we usually don't know what kind of shot the players were trying to hit, which can affect its "look". If the shot the player was trying to produce had a left- to- right shape, or right- to- left shape, that factor could easily affect the player's different set-ups, hand/arm swing shapes.

Some swings are taken on a driving range while others are on a golf course during play. Advanced players have learned to always try to hit shots to targets, with some sort of shape to the ball's flight. That requires "feel" adjustments, which could easily change a look of a swing at that time.


The Loading Period:
The swings "Loading" may take a few seconds to load.


Give the page a full load time. Some swings may appear earlier than others, let them load completely. You will find the next time you view this page, whether going back and forth today or the next day, month, etc. the swings will appear and load MUCH quicker.




** SyberVision or CyberVision has been referred to as Muscle Memory Programming, or as often referred to as"Repititous Sensory Stimulation". Some say SyberVision could be used as a "dramatic improvement in the quality and consistency of a player".

Basically, a theory based on viewing enough times, you may feel "your" swing's motions/positions better. You have to SEE before you can DO.
Jack Nicklaus
Jack Nicklaus
height- 5', 10"
weight-185 lbs
birthday 1/21/1940
birthplace-Ohio








wait-once loaded--swings above never stop

"I think I fail a bit less than everyone else."

--Jack Nicklaus




"All athletes, when they get in pressure situations, revert to what they know. I don't think you are going to revert to mechanics. I think you revert to feel."

--Jack Nicklaus




"Confidence is the most important single factor in this game, and no matter how great your natural talent, there is only one way to obtain and sustain it: work."

--Jack Nicklaus
| | |
| --- | --- |
| | "Power in golf has become totally out of proportion. This is a game of precision, not strength, and that aspect has become so important to me that I plan my playing program accordingly." |
"A very fine [drill] for improving your tempo, smoothing out your rhythm, and improving your balance is to swing with your feet together. I mean actually touching... This [practice] is a fine way to develop a tempo slower than the one you've been playing with."

--Jack Nicklaus


wait-once loaded--swings above never stop



"Nobody, but nobody, has ever become really proficient at golf without practice..."




On his pre-shot preparation:


"It's like a colour movie. First I see the ball where I want it to finish. Then the scene quickly changes and I see the ball going there. Then there is a sort of fade-out and the next scene shows me making the kind of swing that will turn the previous images into reality."




"Golf should make you think, and use your eyes, your intelligence, and your imagination. Variety and precision are more important than power and length."

--Jack Nicklaus




"It doesn't take me very long to feel like I am putting the ball pretty well. Frankly, I find that when I lay off, the first thing that comes back is my putter. Not necessarily the attitude of good putting, but certainly my stroke."






"Over the first three rounds you're playing the course. In the final round, if you're in contention, you're playing the man."

--Jack Nicklaus
Return to Players Swings List<
Moe Norman
Moe Norman is a legend in Canadian Golf, won the Canadian Senior PGA crown in 1987,85,84,83,82,81,and 1980.Won the Canadian Amateur Championship in 1955, holds 33 course records, 13 titles between 1958 to 1976.
Known as a almost machine-like ball striker. Moe also had a rather different approach to things in general.
He used a full finger "baseball type" grip. When asked why he doesn't use either an interlocking grip or over-laping grip which doesn't have all ten fingers wrapped around the shaft.
"Why wouldn't I want to use ALL my fingers?"
He questioned: "That's crazy."


once loaded--swings above never stop


"My Coach, John Redman, saw Moe walking towards us one day in college, and said, 'Boys, here comes the greatest ball striker who ever lived.' I thought, 'Yeah right. Who does he think he's kidding?' This guy was dressed in a black turtleneck, long dark pants, and it's 120 degrees. Well, Moe came up and started ripping drivers right off the ground–dead straight at the 250-yard marker. He probably hit 50 balls and never moved them more than 10 yards either way. It was Unbelievable."


---- Paul Azinger
A true story has it,with different versions, about the time when Moe was leading a tournament (maybe Canadian Open?) by 2 shots going into the last hole, playing in the final group with Gary Player.

Moe hit his shot twenty feet from the pin for a birdie or two-putt for a par to win by 2 shots.

He got to the green, looked over the putt, turned to Gary Player and said "I hear you are the best sand player in the world", then turned and whacked his ball intentionally into a green side bunker (sand trap).
He then went into the bunker and got it up-and-down for a bogie (5) to win by one shot.
Why did he do it?

Nobody knows?


once loaded--swings above never stop

"Moe always made being on the range a big event. As a player, that's one of the things you looked forward to when you came to the Canadian Open each year. All of us used to hang around on Tuesday and Wednesday just waiting for Moe to show up. It was amazing to listen to the knowledge he had about the game. But even more amazing was his ability to strike the ball."


--- Tom Lehman
---
Golf's purest striker rarely missed a fairway

By Bruce Selcraig, for USA TODAY


once loaded--swings above never stop



America's sports pages barely acknowledged the fatal heart attack Sept. 4,2004 at age 75, of eccentric Canadian golfer Moe Norman — a supernaturally gifted yet cruelly misunderstood athlete.

Norman was a stocky cartoon character with thick Popeye arms and wispy Einstein hair who generations of golf superstars — Sam Snead, Tiger Woods, Lee Trevino, Vijay Singh, Fred Couples — have all said he owned his swing and that he was the purest striker of a golf ball they had ever seen.



In 50 years, Moe Norman had 17 holes in one, nine double eagles, won more than 50 tournaments and set more than 30 course records.

Not the farthest hitter. Not the greatest trick-shot artist or putter — putting bored him.
Just the most stupefying accurate golfer on the planet. Norman played competitive golf more than 50 years, and witnesses say he played 11 of those years — that's about 230,000 golf shots — without hitting a ball out of bounds.


A model of hand-to-eye coordination, Norman once hit 356 consecutive drives off a standard wooden golf tee without so much as disturbing it from the ground, much less breaking it. In the real world that's like saying you've never swatted at a fly and missed.




once loaded--swings above never stop



---





Notice how Moe starts his DOWNSWING, from the ground up, with his lower half.

Also, looking at the above swing, he starts the clubhead well behind the ball at address. Maybe he was swinging at an "imaginary" RED line as opposed to just the ball.??????

--B.Silver

---
He hit everything straight. Never left. Never right. Everything perfectly arched like the cables on the Golden Gate Bridge.

When I first saw Norman give an exhibition, about 10 years ago in Florida, he began by hitting simple little pitching wedges about 90 yards.
A small sunburned crowd of seniors didn't act all that impressed until they realized that the balls were landing on top of each other in a space the size of a bedspread, colliding like little neutrons when they hit. Then he did nearly the same thing with 7-irons, 4-irons and drivers. "Same shot. Same as the last," Norman chortled.

The fans started giggling with delight and disbelief, like a magician had yanked out their underwear.
| | |
| --- | --- |
| | |
Murray "Moe" Norman, raised in Kitchener, Ontario, swung the club like a sledgehammer, with his legs wide apart, using his sturdy forearms and wrists for clubhead speed, not the classic swing of the cookie-cutter dandies on tour.

Once a physicist declared that Norman had the most scientifically sound swing in golf.

Today's greatest golfers count their career holes in one on a few fingers. Norman had 17. He also had nine double eagles and three sanctioned scores of 59, won more than 50 tournaments and set more than 30 course records.

"You know what's most amazing about Moe? This man never won a U.S. Open, never won on the PGA Tour and barely had a pro career outside of Canada. But you're talking about someone known around the world in every country golf is played. That made Moe a very rich man in my eyes."

--Lee Trevino
He became a sensation on the Canadian amateur circuit, winning the amateur title twice, even as he hitchhiked to some tournaments.
He shot 61 four times in 1956.
His finest year as a pro was 1966, when he won five of 12 Canadian tournaments he entered, came in second five times and finished no lower than fifth.

When Norman turned 50, in 1979, he torched the senior tour, winning seven consecutive Canadian PGA senior championships. One of his sanctioned 59s came at age 62.

So why have so few Americans heard of him?
Norman was so deathly afraid of strangers and stress that after winning a tournament in Canada he once hid on the banks of a nearby river rather than accept his trophy in public and perhaps have to speak.

I once had an hour-long dinner with him in which he did not utter a word.

He did play in America, briefly, but it was a disaster. After twice winning the Canadian Amateur Championship, he qualified to play in The Masters but twice fell apart in the strange surroundings, overwhelmed by the Augusta aura and the sight of his heroes.

In school Norman was ostracized for being goofy and overbearing. He would pinch kids or give them brutal bearhugs, thinking it was great fun. He called himself "Moe the Schmoe" and was known as a slow student except in math, where he amazed everyone by multiplying two-digit numbers instantly in his head. If he were counting pennies scattered on the floor, he wouldn't count one by one but in groups or pictures, finding the total in seconds.

His photographic memory made him nearly unbeatable at cards, and he could remember the distance and layout of virtually every golf hole he played.


Norman would speak in a repetitive, high-pitched, Pooh-like voice.

"Oooooh, I'm Moe from Canada.

It's cold in Canada. Cold in Canada. Oooooh."

He gave free golf balls to little children but often angrily snapped at adults who just wanted an autograph.

He remained estranged from his parents and siblings for decades, wrongly convincing himself that they hated his only passion in life — golf.

Lately, the highlight of Norman's year was always being welcomed at the driving range at the PGA Tour's Canadian Open to hit beside the greatest young players, who uniformly stood in amazement.He died just before the event this year.

"Have you ever actually mis-hit a ball?" Fred Couples once asked Norman, in jest. Norman stopped hitting for a moment and scratched his head.

"Yes," he said softly, as if confessing.

"In 1962."

He likely suffered from autism, Nothing could prepare you for a visit to Planet Moe.
| | |
| --- | --- |
| | |
He routinely drank 24 Cokes a day — and had the missing teeth to prove it — never had a phone, credit card or date in his life. He hid rolled-up wads of hundred-dollar bills in his old Cadillac's trunk and wore three watches on his left arm, all set to the same time.

Obsessed with routine, he went to the same restaurant every day for months and insisted on being served by the same waitress.

When the movie Rain Man came out, starring Dustin Hoffman as a middle-aged autistic man, everyone who knew him said, "That's Moe." One of the film's screenwriters bought the film rights to his story.

Friends and physicians felt certain Norman was probably an autistic savant, a term coined in 1978 for autistics who often have exceptional math, memory or music skills, but he was never tested and refused to see doctors until his life depended on it. (A small network of loyal friends literally saved him from homelessness, bankruptcy or worse many times.)

Lee Trevino once said that if Norman had simply come along 30 years later and had had a full-time handler to insulate him from the anxiety of public life, we might be speaking his name with Hogan's and Snead's.

I never heard Norman speak about autism, but I know that he understood its cruelties. In his car, which was filled with old newspaper clippings and the motivational tapes that helped rescue his life, he once had a well-worn article about autism sitting on the front seat. In the article the outdated term "idiot savant" was discussed at length.

Norman had crossed out the word idiot.
---
So, yes there are a lot of factors that made Moe such a ball striker deluxe. But doesn't the shaft have to be in a certain space in the same direction at impact for the ball to behave so consistently?

Almost like it was on some sort of a track, with a straight LINE going "mentally" towards the target?
His body rotation was a given, making his swing's circle happen naturally. The Line is a "feel", our swing's. circles/rotations is a given to be balanced.

Think about that.....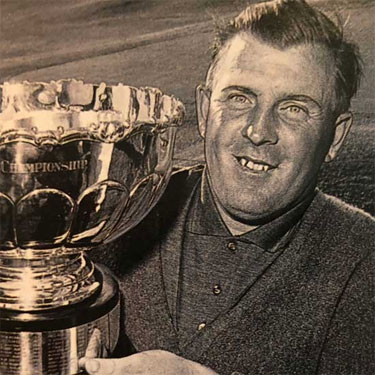 Return to Featured Swings List