About watching Repeater Swings
Don't look for a "position", look at in a general Sybervision ** way. Look for similarities and/or differences of areas that may be of interest to you like:
swing shapes, set-up/address looks, impact areas, swing motions, swing finishes ,etc.

As an example, if your Pro/PGA instructor talks about how your arms should swing, look at how a certain player does it and how another may do it. Keep in mind, the Tour Pros have wonderful hand-eye-coordination and thus they are expert Manipulators of Impact.
Your general visualization is more important than some magic position.


Different camera angles can make certain positions "appear" a certain way, but are not what you might think you see because of the different angles the video could have been shot at.

Video is a great learning tool, but only within the context of learning a "feel" that is individual, which is to say …yours.


Also we usually don't know what kind of shot the players were trying to hit, which can affect its "look". If the shot the player was trying to produce had a left- to- right shape, or right- to- left shape, that factor could easily affect the player's different set-ups, hand/arm swing shapes.

Some swings are taken on a driving range while others are on a golf course during play. Advanced players have learned to always try to hit shots to targets, with some sort of shape to the ball's flight. That requires "feel" adjustments, which could easily change a look of a swing at that time.


The Loading Period:
The swings "Loading" may take a few seconds to load.


Give the page a full load time. Some swings may appear earlier than others, let them load completely. You will find the next time you view this page, whether going back and forth today or the next day, month, etc. the swings will appear and load MUCH quicker.




** SyberVision or CyberVision has been referred to as Muscle Memory Programming, or as often referred to as"Repititous Sensory Stimulation". Some say SyberVision could be used as a "dramatic improvement in the quality and consistency of a player".

Basically, a theory based on viewing enough times, you may feel "your" swing's motions/positions better. You have to SEE before you can DO.
Henrik Stenson
Henrik Stenson
height- 6', 2"
weight-190 lbs
birthday 4/5/1976
birthplace-Sweden







| | |
| --- | --- |
| wait-once loaded--swings above never stop | |
| | |
| --- | --- |
| wait-once loaded--swings above never stop | |
| | |
| --- | --- |
| wait-once loaded--swings above never stop | |
| | |
| --- | --- |
| wait-once loaded--swings above never stop | |
Return to Swings List
Payne Stewart
Payne Stewart
height- 6', 2"
weight-180 lbs
birthday 1/30/1957
birthplace-Missouri










wait-once loaded--swings above never stop



The late Payne Steward illustrates what a flowing swing should look like. No jerky-jerky motions, always an even flow to the swing.
A total trust in what he is doing, no matter where the ball may decide to go.
He was known as a really "feel" player.


So, "Mechanics" produce and "Feels" reproduce the mechanics.







After slamming his wedge into the ground because of a bad shot in the 1990 US PGA Championship:

"I felt much better after i did that. I know it isn't nice for the fans to see but you just have to release your frustrations."


--Payne Stewart

"But in the end it's still a game of golf, and if at the end of the day you can't shake hands with your opponents and still be friends, then you're missed the point."

--Payne Stewart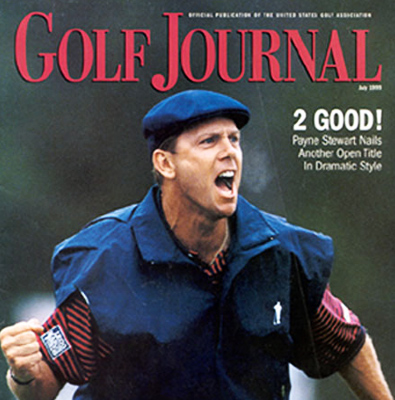 Return to Players Swings List
Annika Sorenstam
Annika Sorenstam
height- 5', 6 "
birthday 10/9/1970
birthplace-Sweden











What I like about Annika's swing is how she loads her swing energy on the backswing, stores it on the downswing, and lets the swing's momentum r-e-a-l-l-y carry her to finish.

In 2002 Annika tied Mickey Wright's record of 13 titles in one season. ( see Mickey Wright in "Z-Action Swings_W") Annika did it in 25 starts, Mickey in 33. That doesn't make any difference to me, Mickey played with "wood-woods", her play in the 1960's was without the high-tech training and equipment of today., all the golf course greens are in much better condition today, etc. Just don't think you can compare records or players.
They both were good.

wait-once loaded--swings above never stop

"I realized that achieving my goal of being number one was not a matter of improving my swing; it was about me improving as a total player--and as a person. Every shot must have a purpose.

--Annika Sorenstam
| | |
| --- | --- |
| wait-once loaded--swings above never stop | Annika has a strict routine before she tees off. She begins her warm-up an hour and 15 minutes before her tee time. She starts on the practice green to get a feel for the speed of the greens. Next she chips. Then she hits the driving range, beginning with her short irons and ending with her metal woods. From there, she heads back to the practice green. |
| | |
| --- | --- |
| wait-once loaded--swings above never stop | Annika's former husband, David, admitted on a 2003 episode of "60 Minutes" that she used to intentionally lose tournaments as a junior to avoid making victory speeches. |
Annika's book, "Dare To Be The Best," is a top-seller in Sweden. She says there are no plans to publish an English version in the U.S.


Annika's 38 tournament victories since 2000 were the most of any golfer, man or woman, at any level.





Annika at time of this post was pursuing her black belt in karate.

Annika retired from Tour competition in 2008.
Return to Featured Swings List